Dr. Teimojin Tan "The Survival Doctor"
Dr. Teimojin Tan "The Survival Doctor" Alone Season 9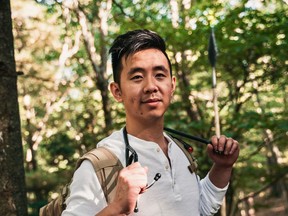 Teimojin grew up in Canada, though he traveled to many places as he grew. Teimojin was exposed to many indigenous cultures gaining an early understanding of plant based medicines, survival, hunting, and indigenous customs. 
This early exposure to indigenous cultures allowed him to have an early understanding of the challenges facing many of these underserved communities. This inspired Teimojin to work for non-profit organizations in South America, Ghana, East Africa, and more.
Teimojin joined the Canadian Army Reserve at age 17 as an infantry soldier. he had a particular fascination with cold weather warefare and survival eventually spending weeks and months in the Subarctic learning how to make improvised defenses, assaults, and search and rescue missions as well as employing skills to procure food and make shelter which he learned from the native Cree Rangers. 
Eventually, Teimojin  found his way to medical school and became a doctor, planning on working in the more rural areas of the Bruce Peninsula in Ontario. A life spent between fighting, and healing, combined with a love of the outdoors lead him to further specialize in wilderness medicine. Teimojin now teaches people how to prepare and overcome illness and injury in harsh environments. 
This range of skills and experiences allows Teimojin to bring a very unique perspective to the medical side of survival which is often overlooked. 
Check out Teimojins Signature Card HERE
For more information check out Teimojin on his youtube channel HERE
Find out more about the Survival Doctors HERE